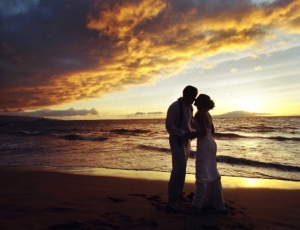 ↑ Hey, George!!!!
"I'm THRILLED and completely shocked that you were able to complete our 'live' photo album so quickly. THANK YOU!! Don't know if you have noticed...but our online photo album has been a real hit! Looks like we've had 116 page views thus far. That is totally attributable to YOUR talent, George. You are amazing!!!
That said, I thought that you may enjoy hearing a small sample of the MANY comments that Mike and I have received:
'They're spectacular! What a memory!! Congratulations to you both'
'OH MY...I honestly don't know if I have words to say how much I LOVE your pictures! Oh my gosh, Mindy, they are just unbelievable! It's like looking through a fairytale book.'
'Oh my gosh. These are wonderful!! I especially love the ones with the sunsets. They are so romantic. I see why it was so special.'
'heck girl...i even got teary-eyed just looking at the pics...very, very romantic!'
'Breath-taking. You really had a fantasy come true.'
'Your pictures are the most beautiful wedding pictures I have seen. Absolutely Gorgeous !!!!!!!'
Again, thanks!!!!!!!!! :-)"
Mindy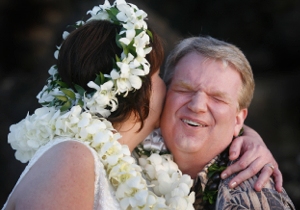 ↑ George,
"Everyone is amazed when they view the wedding book and have never seen anything like it before. You captured our personalities and the feeling we have every time we visit Maui. It takes a lot to get us to be sentimental, but we couldn't help getting a tear in our eyes when we reviewed the book. It's perfect. We wouldn't change a thing. It's absolutely stunning.
We knew of your talents from the web. That's why we specifically requested you, however, we are still amazed. We very much appreciate your talent, professionalism, and sense of humor.
Thanks again for everything."
Dave & Diane Handy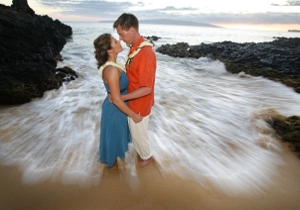 ↑ Hi George-
"We just received our wedding book from Fedex and just wanted to let you know we are extremely happy with it. The distressed leather looks awesome and you were right about the upgrades being worth it. We are still planning on ordering some individual pictures too. Thanks again and I hope all is well with you."
Take care,
Breck Gudinas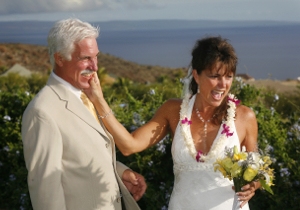 ↑ Dear George,
"Thank you so much for your gift of love in photographing my niece and John's Wedding. Your artistry perfectly captured the love and joy of our newlyweds. Since we could not attend the ceremony, we were so pleased that you were the one to bring it to us. Therese was in my wedding thirty-two years ago as a flower girl! My husband and I wish you had been around to photograph our wedding !"
Very gratefully,
Auntie Janice Richardson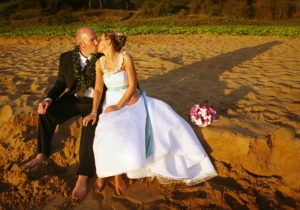 ↑ George,
"We recently received the album and also a very large portrait that Courtney's mom gave us. The album is outstanding and of very good quality. The portrait is excellent as well. We will be ordering some pictures here for ourselves shortly.
We appreciate you photographing our wedding and everything has turned out so well. Thank you from both of us. We will recommend you to anyone."
Nat Erickson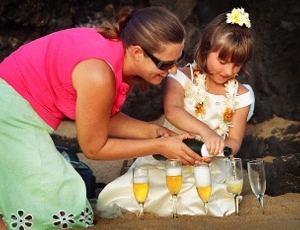 ↑ "I think that last time I looked at the web sight we had over 100 hits and everyone has the same jaw dropping response 'oh my god, your pictures are gorgeous they belong in a commercial', 'WOW, I feel like I am looking at an ad. These are awesome' . I must say that you also brought tears to some peoples eyes that were not able to share our day in person! The pictures make people feel what we felt on our wedding day. Now that is talent!
I would HIGHLY recommend you to anyone looking to capture their amazing memories to cherish forever."
Thanks George!!!
Matt, Sheryl & Emma :-)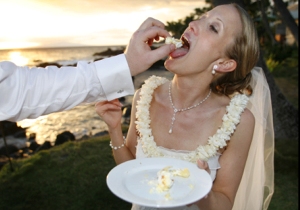 ↑ George,
"I am not sure if you got my email a while back but I wanted to let you know how much Shayne and I love our wedding photos. Everyone who looks at our album is completely "wowed" by it. Thanks again for taking such wonderful pictures!!
Emily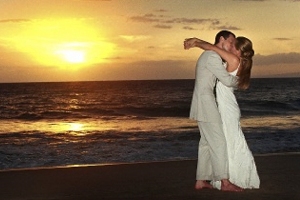 ↑ George,
"Saw the pics on the web site last night. In a word, OUTSTANDING!!! You were able to capture the essence, beauty and joy of the event. You told the story. Please feel free to use us a reference.
Our initial contact with you, first impression, was certainly better than that of your competitors and from start to finish all that we could have asked and more."
Thank you again
Grant & Judy Kallen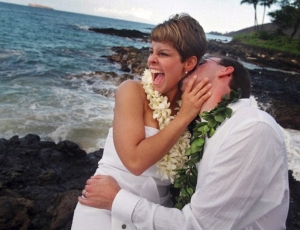 ↑ "We got the books on Friday. I called Steve and made him come home from work early so we could look at them together. They are absolutely beautiful. You did an amazing job and we couldn't be happier. We've already been taking them everywhere we go so that we can show them off to all of our friends and family. It's my day to take them to work tomorrow.
Thanks again for capturing our day so wonderfully. You made our wedding even more fun."
Gretchen Lawn



↑ Hello George,
"We got our pictures and love them dearly. We are very thankful for you, we will always have something to capture those moments. You are truly talented. I wanted to let you know that I have heard many wonderful things from a lot of people about your work. I have heard that my pics are the best people have ever seen, and that you really captured the moments for people who were not there. I was told by a friend of mine who is a wedding coordinator, and raised in a family of photographers in the Portland area, that our pictures were absolutely fabulous. Great job and thank you. You will be truly recommended to anyone who travels to the island for special occasions."
Nicole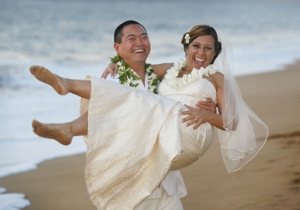 ↑ "Let's just say I'm speechless. Our pictures are spectacular."
Thank You,
Toni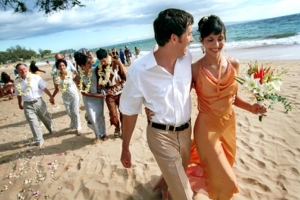 ↑ Aloha George!
I've been meaning to get back to you. The pictures you sent us look amazing, we love them so much and everyone else at the party got to enjoy them also....everyone loves them. Thank you very much for getting the album to us so quickly. We are very happy that you could help to make our wedding such a magical experience for us.
We'll talk to you soon,
Lisa and Eddie Visser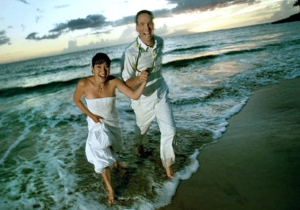 ↑ Hey George!
"I must tell you, we are absolutely THRILLED with the pictures you took and with your helpful and flexible attitude. We won't hesitate for a moment to recommend you if the occasion arises. Again, thanks for doing such a wonderful job and for being such a good guy. Everyone loves the pictures!!!"
Greg and Kim Benson